Expand your home's living space with an attractive, custom designed entertainment area. Landscape pavers allow us to easily make rounded edges or odd shapes that fit a particular space. Versatile and durable, pavers can be used for a variety of outdoor projects – from walkways and driveways to patios and fire pits. A well-designed walkway helps direct the flow of traffic, while incorporating a few curves can really add visual appeal. Patios m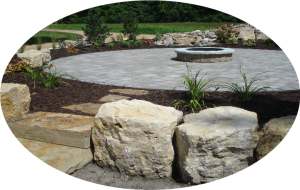 ake escaping to the great outdoors easy, since all you have to do is step outside! We can enhance this space with pergolas, arbors, seating walls, and landscape lighting. In addition to paver patios, we also install custom paver sidewalks and driveways.
Fire pits are becoming more and more popular; often one of the first things our  customers ask to have incorporated into their landscape design.  By adding a fire pit you are increasing your ability to use your yard well into the evening. There are a variety of different ways we can create a fire pit – from small boulders ringing the fire pit, to a fire pit built out of stone. For a more formal look, an outdoor fire place can be built into outdoor kitchens and double as pizza ovens.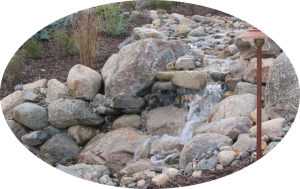 WWhether you're looking to create white noise to Wdrown out the busy street behind you or just add Wthe finishing touch to your landscape, a water Wfeature will add that extra element you are Wlooking for. The peacefulness of a babbling rock Wor waterfall can transform an  ordinary backyard Winto a relaxing sanctuary. Water features come Win a wide range of sizes and prices, from a Wbubbling rock, to a waterfall, to a full fountain.
We also design and build custom decks that provide you and your   family with additional space for outdoor enjoyment, while adding value to your home. Decks provide families a place to gather, entertain, and spend quality time together. We work with you to build a one-of-a-kind deck to suit your lifestyle and the layout of your home.