At Roots Landscaping, we pride ourselves on building strong, long-lasting, and beautiful retaining walls and other hardscapes. A block retaining wall might be just what your landscape needs if you want to level a steep slope or enclose an area for a decorative garden.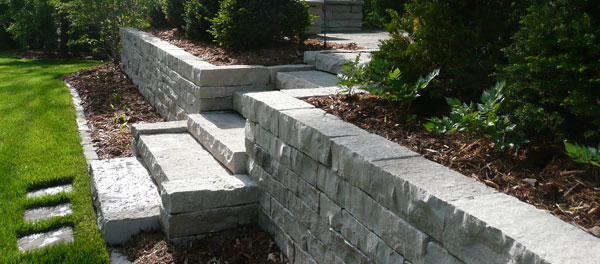 Retaining Walls: Regardless of if you are using simple block retaining walls or top of the line hand-stacked stone, we will build a strong, tight, long lasting wall. All of our walls are given a solid crushed rock base, back-filled with a layer of crushed rock and drain tile to ensure there will be no water damage eating away at your wall from the back side. We build everything from large block retaining walls to freestanding seating walls and everything in between.
Water and Drainage: We always pay special attention to drainage and runoff before tackling a job. We will address any known issues and any additional issues we find during the course of the project. We also install drain tile, French drains, and rain gardens while making sure all slopes and grading is going way from your home and off to the proper places.