Roots Landscaping provides landscape design services to the entire west metro area including Chanhassen, Victoria, and Waconia, MN. Our team will work with you to create the best landscape design for your home or business. All of our plans are created in 2D and 3D, so you can really visualize what your custom landscape design entails.

2D Landscape Designs
We use DynaSCAPE Design and Color for the majority of our residential design plans. It gives an entire layout in 2D – using textures, subtle shadings, and beautiful, vivid colors to bring a whole new dimension of detail to your drawings. These layouts are so detailed you can choose from a huge library of plant and tree species, stones, and mulch. You can even add a pool or pond, or both. All of these capabilities allow us to custom design your outdoor living space. This will help you to visualize the outcome of having these new additions to your property prior to having them placed there.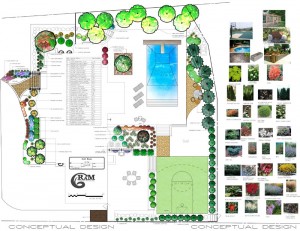 We are able to bring details and photos of plants for you to review. Once you have the layout in front of you, along with all of your plant life information, you and your designer can discuss any alterations that you would like to make. Our designers are excited to be working with you and want nothing more than for you to be excited about working with us!
3D Designs
We are also now using a DynaSCAPE sketch 3D software program. This program enables you to visualize what the project will look like prior to completion. It is cutting edge!  Not only does it create a 3D model, but adds texture to the model to make it all the more realistic. This is a great tool we are able to use to improve the overall customer experience.
Serving the entire West Metro including: